Secret shopping for the first time mother
Date Submitted: 15/05/2017
When you first started mum, have you prepared enough and right to welcome your baby?
No sooner will the little angel be officially born. Beyond the anticipation, moms will be a little embarrassed in choosing to buy newborn baby when first mothers. With the list of things to buy after, the mother will not worry nor lack of fear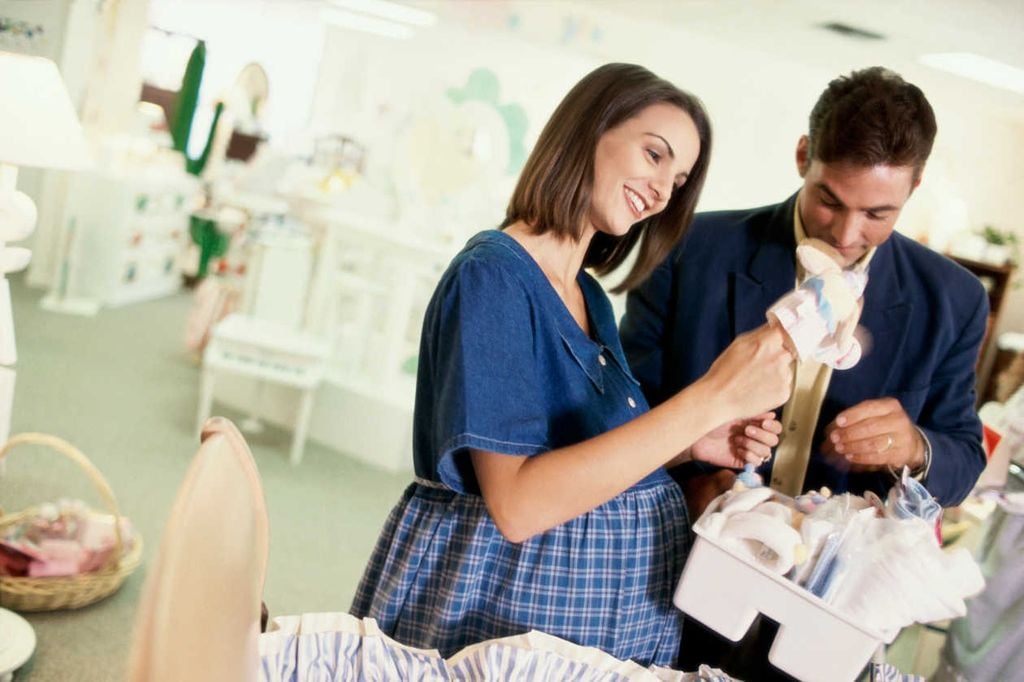 Prepare enough and proper supplies to welcome baby birth
Clothes for baby
The baby's birth is changing every day, so there is no need to buy too much newborn baby clothes to avoid wasting money when the baby is not fit enough. Pregnant mothers can refer to the amount of baby clothes as follows:
- 10 buttoned shirts or ribbing to keep warm breast. Choose a soft cotton material to absorb sweat good.
- 10 baby pants that are bigger than the baby's body for easy wearing when the baby is wrapped diapers.
- 6 warm shirts. Do not choose wool because the dew drops into the nose and into the throat of the respiratory tract of the baby.
- 3-4 baby hats.
- 5 sets of gloves, baby footstool.
Paper, diapers and baby pads
First of all, a package of newborn pads used in the hospital right after birth.
The mothers have prepared four diaper bags. Diaper selection is to choose the type of fabric bed liner fabric, the two sides of the esophagus should be soft so as not to irritate the skin of the baby's thighs.
Hold 10 cotton diapers or diapers medium or large. When closing this type of diaper, the baby may not need to wear pants for ventilation.
Also, do not forget to buy a bag of soft roll paper, 3 packs of wet tissue (good type, not too much scent), there will be a very need to use it.
Towels, towel, milk towel
Buy 4-5 cotton towels
The weather is erratic, mothers do not save the wrong way but buy 4-5 cotton towels for backup. Especially note, never buy cheap cotton towels in the market offline! High quality branded towels are selling well in supermarket chains or mom and baby stores. Buy towel brand origin will ensure the material soft towel yarn, quick drain, safe for sensitive skin of the baby.
Choose towel with a clear origin brand for your baby's health
Infants will have to use a lot of face towel bucket, gauze, milk towels should be stored 40-50 of this type of blanket offline. Choose to buy towels from natural fibers such as bamboo, soybeans, cotton ... to avoid damaging baby skin. Add 3 more towel to wrap baby after each bath offline.
Milk towel should be made from natural fibers with antibacterial function
Accessories for baby
After buying all the required items, mothers should list the necessary accessories such as bottles, warmers (depending on need and economic conditions), cotton blankets for summer or warm wool blanket for winter, waterproof sheet, pillow block, anti mosquito screen ... to complete the list of welcome baby born.
According to the experience of mothers who gave birth, the purchase of baby furniture should be started from the beginning of the 7th or 8th. You should start with the things you need most. Then you should buy items every month because after birth will grow very fast. Because of your health and overall development, from the very beginning of your life, please prepare well and give me the best.
Phong Phu Corporation's Mollis Mollis is chosen by the mothers for the baby and the whole family because all the yarns and dyes of Mollis towel are of natural origin such as bamboo, soy, milk , leaves, bark, all kinds of tubers
Mums can visit the website www.mollis.com.vn or fanpage to see more details about towels like Mollis.