How to wrap a towel "standard" for new born baby
When the baby was born, the baby was wrapped in towel. Wearing a towel helps keep the baby feeling safe like in the womb.
Wearing a towel is a beautiful art wrapped around the problem, but "wrapped towels" to be safe and comfortable baby, comfortable, not crying, the way "wrapped towel" is not right. also know.

According to the research, wrapping the towel will help the baby sleep better, less night crying, more shock than the baby is not wrapped towels because it gives the baby a sense of security, and protect baby from nails The baby is very long and pointed so it is easy to scratch.
However, another study found that infants with 3 months of age who were wrapped in towel frequently had a fourfold increased risk of pneumonia compared with other infants. No evidence has been published but experts say that wrapping the towel affects the respiratory ability, increases the risk of developing pneumonia, or by over-rewinding the resistance so no more. Wearing a towel will cause sweating, which will make the baby cold if not dry or change a new towel.
In addition, the study published in the British journal Archives of Disease Childhood said that wrapping towels will cause the risk of developing osteoarthritis and some diseases of the baby's hips when grown.
Not all babies love to wear a towel; children 2 months or older do not need to rely on a towel. When the weather is hot, restraints are limited.
Remember to choose a soft cotton towel (towel, baby towel) for wrapping, select towels have origin, clear origin. When wrapping towels, do not straighten your baby's legs or squeeze them together when wrapped. Should relax the lower body, legs and hips can be comfortable movement, moderate wrap not too loose or too tight, if loose will expose the risk of sudden death, if too tight will cause her discomfort. , and should not be wrapped too high over your head or over your neck.
Step 1: Lay the towel on a flat surface, fold the towel into a triangle, placing the baby in the center of the triangle.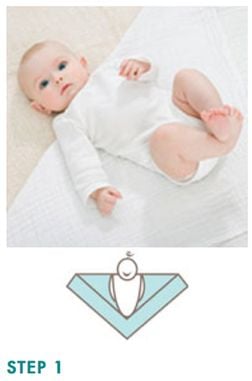 Step 2: Fold the left hand corner (right), onto the baby's shoulder.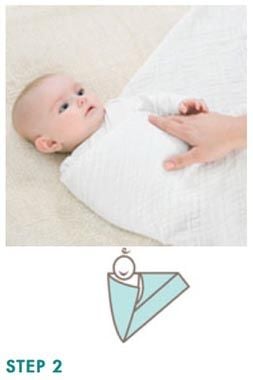 Step 3: Fold the diaper at the bottom over your baby's shoulder.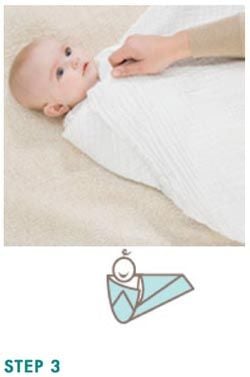 Step 4: Fold the right side (left) down on the back, and insert the diaper edge into the fold for a neat.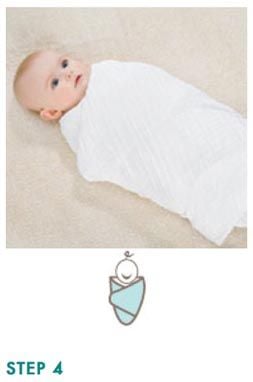 Wearing a towel for a baby simply look, if the practice is difficult at first, but if you do many times you will find hands.
See more useful health information on the mollis.com.vn website or Mollis fanpage.